These little houses look adorable together when decorated to celebrate Christmas or winter. Try with the Sugartrain Train Cake for a real community feeling!
[cooked-sharing]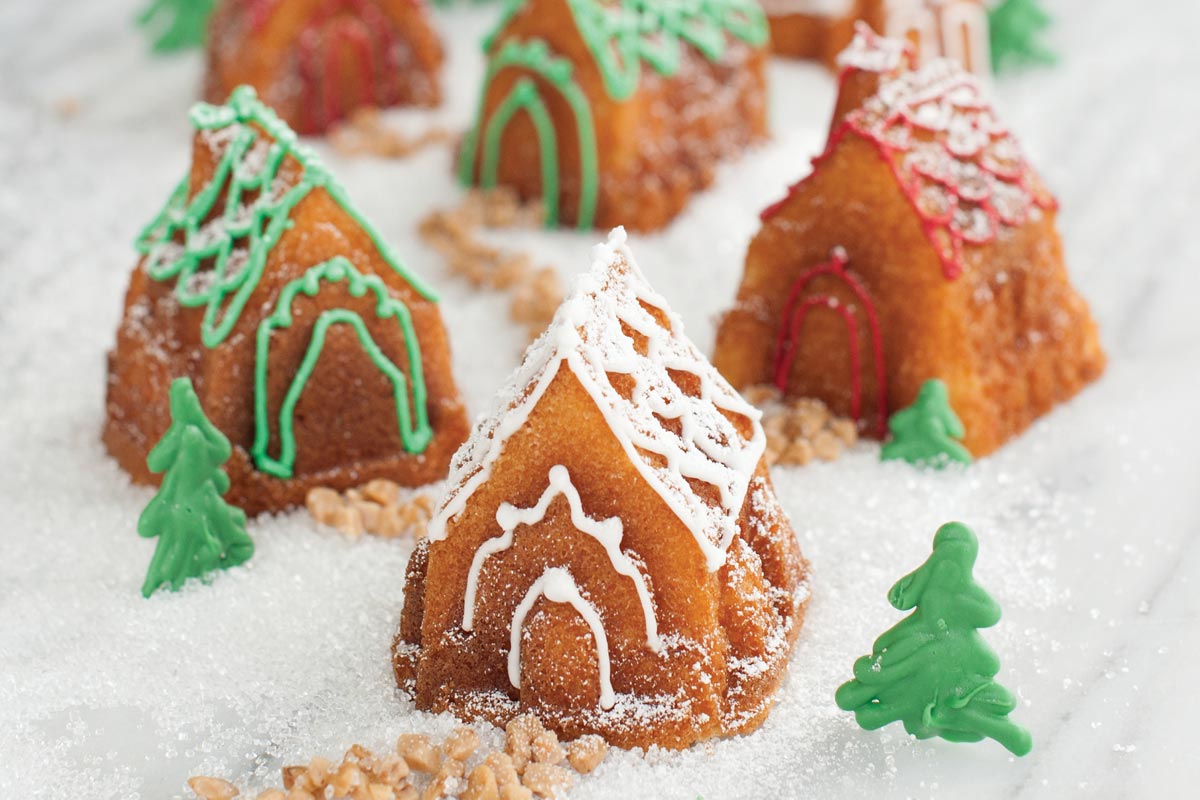 1
cup
plain yogurt or sour cream
Grated peel from 1 orange
Bakeware
Directions
1
Preheat oven to 175°C. Prepare your pan by using a pastry brush and melted butter, ensuring that you reach inside every crevice of the pan, then dust with flour. Alternately, use a baking spray that contains flour and brush excess with a pastry brush to evenly coat the pan.
2
Sift together flour, sugar, baking powder, baking soda and salt. Set aside.
3
In a large bowl, combine yogurt or sour cream, butter, eggs, vanilla and orange extract. Beat on a medium speed, scraping the bowl often, until well blended.
4
Add the dry ingredients and blend on the lowest speed, scraping the bowl often, until well combined.
5
Beat on medium speed for 1 minute, then stir in the orange peel.
6
Spoon half of the batter into your prepared pan, filling each house ¾ full. Tap the pan onto a counter top to release any air bubbles. For best results, spread the batter up to reach the top edges of each well so they are slightly lower in the centers. Set remaining batter aside.
7
Bake for 22-27 minutes or until your Reusable Bundt Cake Thermometer indicates it is cooked (or a toothpick inserted in center of the cake comes out clean).
8
Transfer to a wire rack and let cool in the pan for 10 minutes before inverting onto a rack to cool completely.
9
Wash and dry the pan, then prepare again as previously directed in step 1. Repeat the filling and baking directions with the remaining batter.
10
Once all are completely cooled, decorate as desired, such as with coloured frosting piped along each cakes' unique feature shapes.