A train cake is a big favourite for kids of all sizes - small and large! This sugar consignment is running express to you for loads of fun.
[cooked-sharing]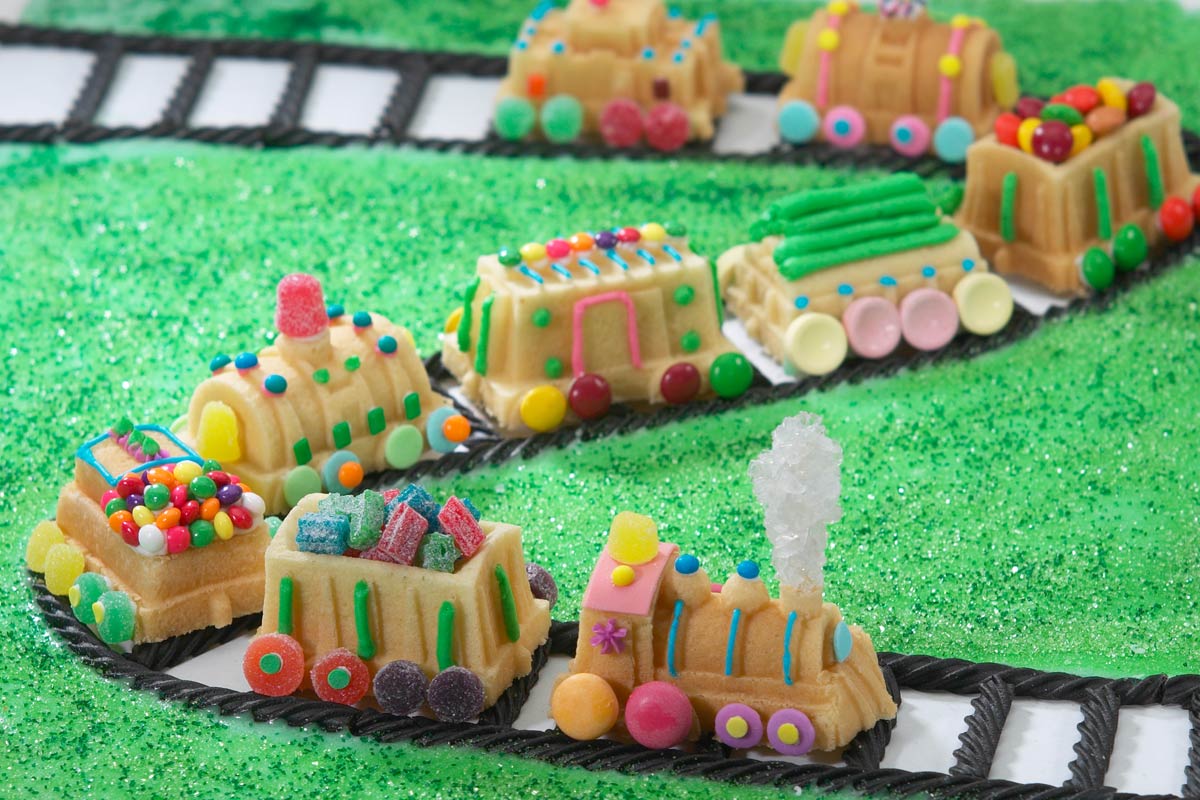 Prep Time20 mins
Cook Time27 mins
Total Time47 mins
Frosting
1
cup
vegetable shortening
Decorations
Assorted candy, especially round shapes for wheels
Green decorator sugar or sprinkles
Licorice twists for train tracks
Bakeware
Large cake board or strong cardboard
Directions
1
Preheat oven to 160°C. Prepare your pan by using a pastry brush and melted butter, ensuring that you reach inside every crevice of the pan, then dust with flour. Alternately, use a baking spray that contains flour and brush excess with a pastry brush to evenly coat the pan. Set aside.
2
In a large bowl, combine flour, sugar, baking powder, baking soda, salt and cinnamon; set aside.
3
In medium bowl, combine melted butter, sour cream, eggs, vanilla and almond extract; mix until well blended.
4
Add sour cream mixture to flour mixture and blend on low speed, scraping bowl often. Beat on medium speed 1 minute.
5
Spoon the batter into your prepared pan, filling each train carriage about ¾ full. Tap the pan onto a counter top to release any air bubbles. For best results, spread the batter up to reach the top edges of each well so they are slightly lower in the centers. Set remaining batter aside.
6
Bake for 20-27 minutes or until your Reusable Bundt Cake Thermometer indicates it is cooked (or a toothpick inserted in center of the cake comes out clean).
7
Transfer to a wire rack and let cool in the pan for 10 minutes before inverting onto a rack to cool completely.
Frosting
8
In large bowl, combine vegetable shortening, butter and vanilla. Gradually add powdered sugar, 1 cup at a time, scraping bowl often. Add milk, beating on medium speed, until light and fluffy.
9
Remove 2½ cups frosting and colour with the food colouring as desired to decorate train cars, piping along the train and each carriages' unique feature shapes.
10
Add round candies for train wheels, and other shapes into the wagons as freight.
11
To make train tracks, cut the black licorice twists in half lengthwise. Use icing to glue the tracks together, shaping the track as desired.
12
Colour the remaining frosting green and spread onto cardboard around train track, then sprinkle with green sugar or sprinkles.
13
Place the decorated train and carriages onto the track.