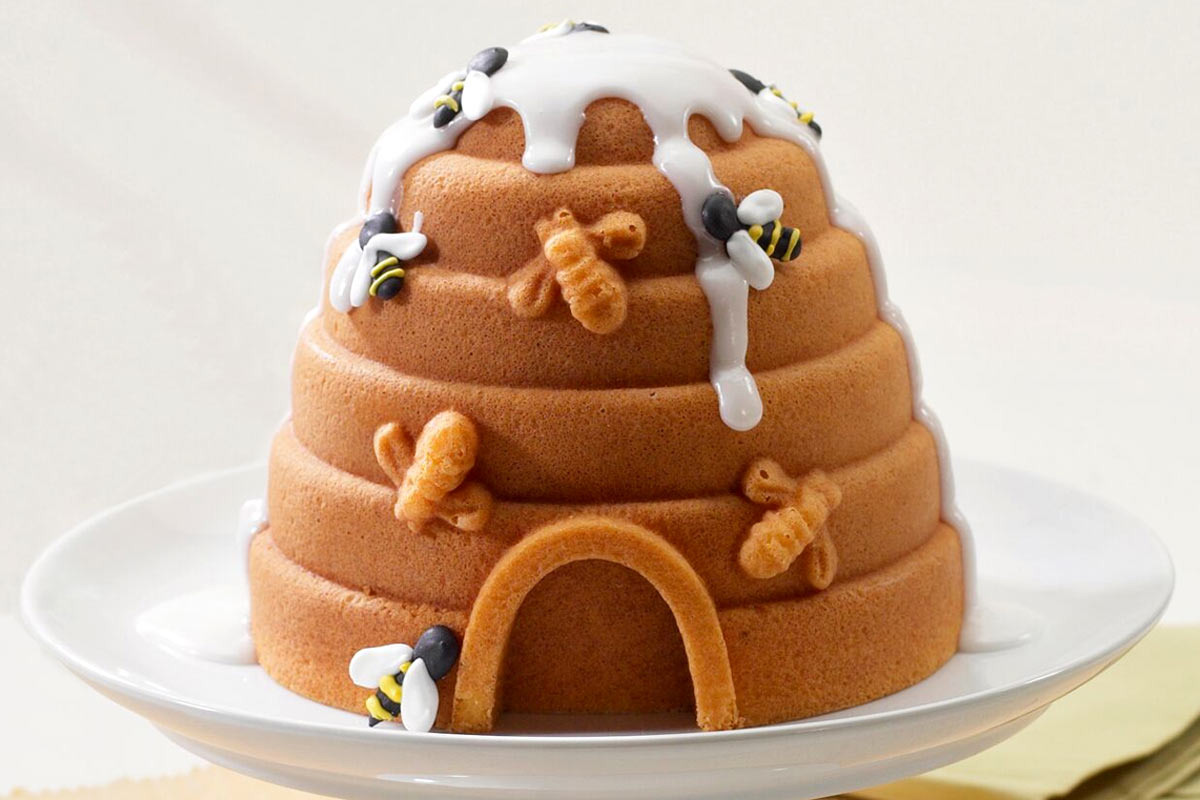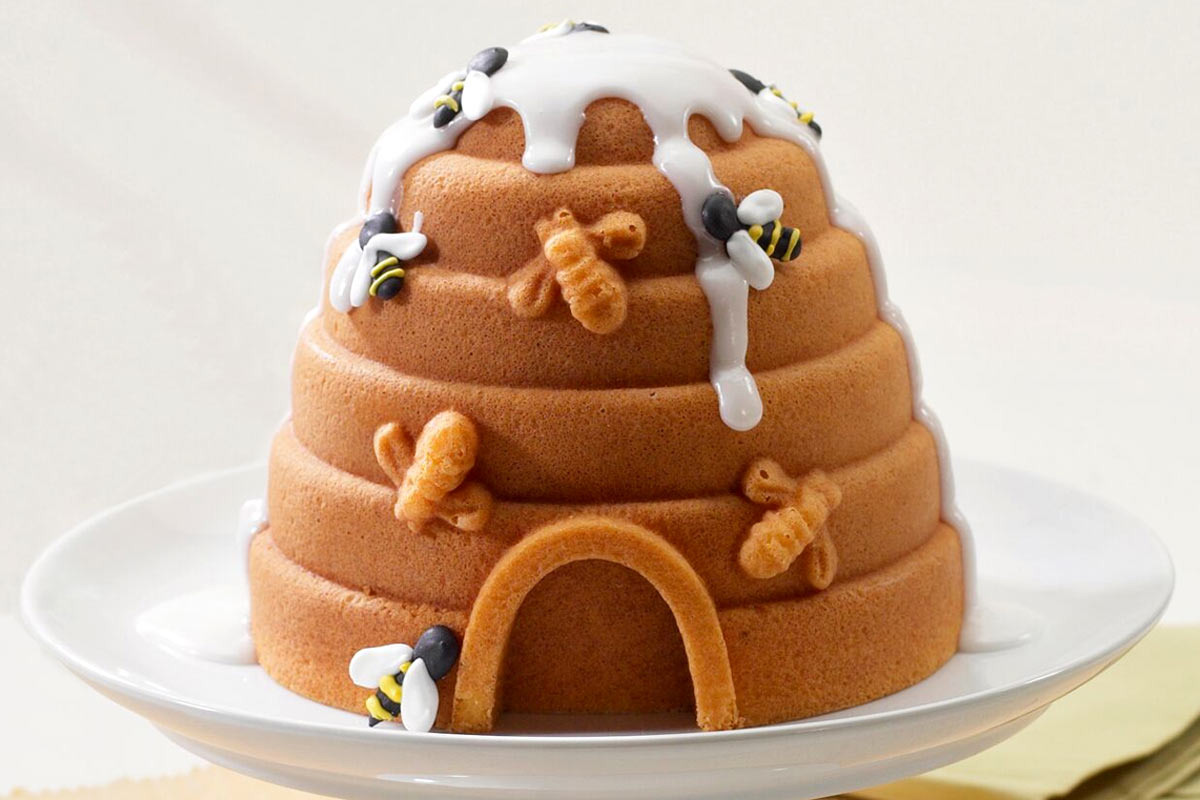 Honey Lemon Beehive Cake
April 20, 2017
Using the Nordic Ware Beehive Cake Pan, you can create a 3D beehive that is as adorable in looks as it is sweet in taste.
Prep: 30 mins
Cook: 1 hr 10 mins
Yields: 8 servings
Ingredients
Cake
Glaze
Buttercream
Icing
1 cup confectioners' sugar, sifted
honey bees for decoration (optional)
Bakeware
Directions
1Preheat oven to 150°C.
2Prepare your pan by using a pastry brush and melted butter, ensuring that you reach inside every crevice of the pan, then dust with flour. Alternately, use a baking spray that contains flour and brush excess with a pastry brush to evenly coat the pan.
3In a medium bowl, sift together the flour, baking powder and salt; set aside.
4In a large bowl, beat together butter, sugar and honey, scraping bowl often. Add eggs one at a time, blending well after each addition.
5Stir in the vanilla. Reduce speed to low and gradually add the flour mixture, alternating with milk, and mix until just blended, then blend in the lemon juice.
6Divide the batter evenly into the two halves of the pan, spreading it so it touches the top edges of pan and lower in the center.
7Bake for 50-60 minutes, until a toothpick inserted comes out clean.
Glaze
1Just before the cake is cooked, in a small saucepan over medium heat stir together the honey, lemon juice and salt and bring just to a simmer, about 2 minutes. Remove from the heat.
2Once the cake is cooked, allow to cool for 15 minutes in the pan.
3Tap the cake gently in the pan and invert onto a cooling rack, then brush the glaze over the cake with a pastry brush.
4Allow the cake to cool completely.
Buttermilk
1In a small bowl, using a handheld mixer beat the butter on medium speed until smooth and creamy.
2Add the confectioners' sugar, milk, vanilla and salt and continue beating until light and fluffy.
Icing
1In a small bowl, stir together the confectioner's sugar and milk until smooth.
2Add more milk, a half a teaspoon at a time, until the icing is thick but still pourable.
Prepare the cake
1Stand one half of the cooled cake vertically on its base. Using a serrated knife, level the flat side of the cake by trimming 3-6mm off the edge. Repeat with the other cake half.
2Using an offset spatula, spread a thin layer of buttercream, about 1/2 cup, on the flat, cut side of one of the cake halves.
3Place the cut side of the other cake half against the frosted side and gently press to secure the two halves.
4Using the spatula, smooth the buttercream at the seam, then carefully transfer the cake to a serving platter
5Drizzle with the royal icing over the assembled cake, making sure to cover the frosted seams.
6Decorate with the sugar honeybees.