An indulgent Bundt with two glazes. Grrr yuuum!
[cooked-sharing]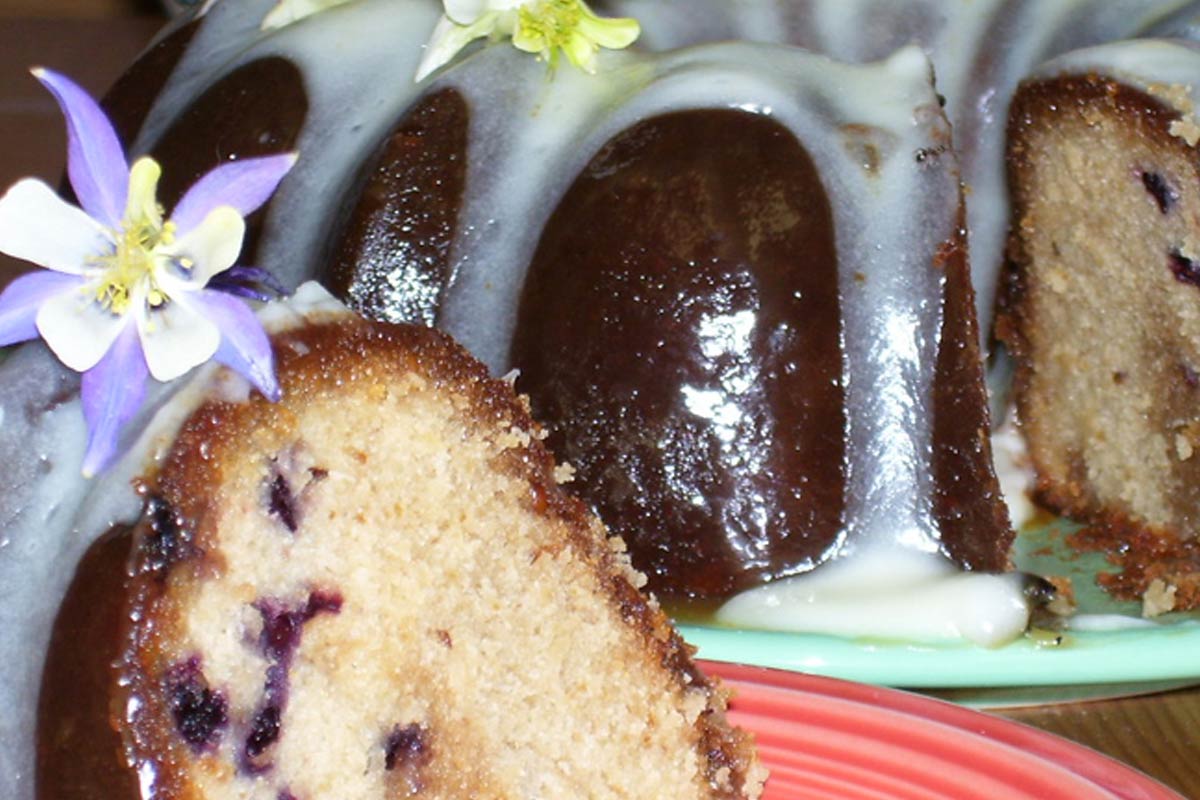 Prep Time30 mins
Cook Time1 hr 5 mins
Total Time1 hr 35 mins
1 ½
cups
granulated sugar
¾
cup
fresh or frozen blueberries
Glaze
Sour cream glaze
Bakeware
3, 6 and 12-Cup Formed Bundt Pans
Directions
1
Preheat oven to 175°C. Lightly butter Bundt pan and dust lightly with flour, then turn upside-down over the sink to remove excess flour. Set aside.
2
Scatter pine nuts on a baking sheet. Toast in preheated oven until they begin to colour; approximately 8-10 minutes. Grind in a food processor with blade attached for 5 to 7 seconds until they are finely minced. Set aside.
3
Sift flour, baking powder, salt and baking soda in a large bowl. Set aside.
4
In large bowl of food mixer at medium speed, cream butter with sugar and honey. Mix for five minutes until light and fluffy. Add eggs one at a time, beating well after each. Add ground pine nuts, mix for one minute.
5
In a measuring cup, combine buttermilk and vanilla. Add dry ingredients and buttermilk mixture to creamed mixture, alternating beginning and ending with dry ingredients. Remove bowl and stir in the blueberries with a spatula.
6
Spoon mixture into Bundt pan (if using a 6- or 3-cup Bundt pans, divide the mixture and make multiple cakes), tap pan on counter to remove air bubbles. Place in middle of oven and bake for 60-65 minutes (12-cup Bundt, less for smaller Bundt versions).
7
Take out of oven and pierce several times with a wooden skewer, and add the Bundt glaze allowing it to drizzle into the puncture holes.
Glazing
8
Five minutes before the cake is done, combine sugar, baking soda, buttermilk, honey and butter in a small saucepan. Cook over medium/high heat and bring to boil, then boil for 3-5 minutes.
9
Remove from heat and pour directly over the hot-from-the oven cake. Use all of the glaze, the cake will absorb it.
10
Cool cake in pan for 15 minutes then invert on a cake plate. Cool completely.
Sour cream glaze
11
When cake is cool, in a small saucepan over medium heat combine the sour cream, confectioners sugar and lemon juice. Bring mixture to a boil and cook for one minute. Spoon over the cool cake. Decorate cake with fresh flowers if desired (remove and discard if not edible).
12
Slice and serve on dessert plates along with whipped cream if desired.