Bundts are now on-trend for wedding cakes, and Nordic Ware's three formed aluminium Bundt pans stack perfectly to make this impressive three-tiered wedding cake.
[cooked-sharing]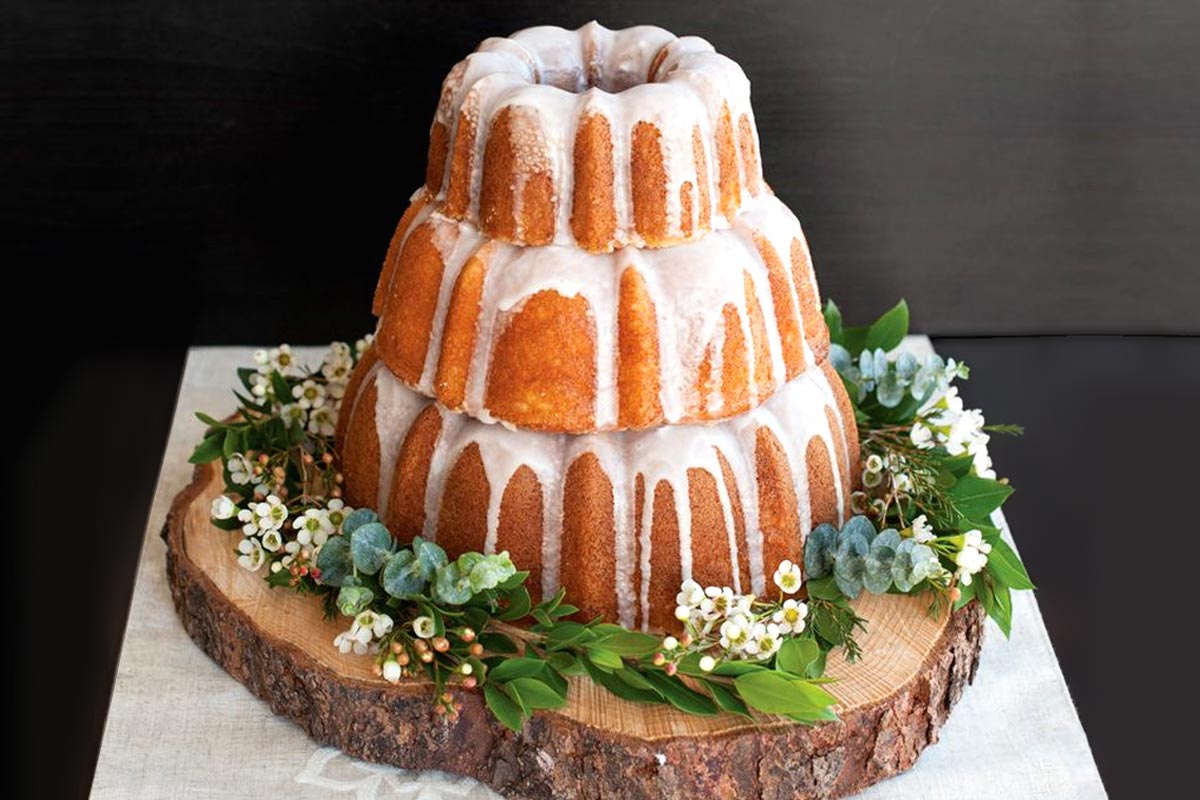 Prep Time30 mins
Cook Time50 mins
Total Time1 hr 20 mins
2
Nordic Ware Gourmet Bundt Mixes
Glaze
3
cups
icing sugar, sifted
Bakeware
3, 6 and 12-Cup Formed Bundt Pans
Directions
1
Preheat oven to 180°C. Prepare each pan by mixing together a small amount of melted butter and plain flour (cocoa if you're making a chocolate Bundt) and generously brush across pans, ensuring an even and thorough coverage.
2
Mix half of Gourmet Bundt Mixes in one bowl and the rest in another. Use an electric mixer to beat in 1 cup of butter into each bowl until crumbly.
3
In a separate bowl, lightly whisk the eggs and milk together. Slowly fold and evenly distribute the egg and milk mixture into both butter mixtures.
4
Using an electric mixer, mix both mixtures on low speed for 30 seconds. Scraping down the sides of the bowl, mix on low speed for a further 30 seconds. Evenly distribute and fill all three pans.
5
Bake each pan on a centre rack of the oven for 45-50 minutes (less for the 3-Cup Baby Bundt). Test for doneness with your Reusable Bundt Cake Thermometer (or a toothpick inserted in center of the cake comes out clean).
6
Remove from oven and let cool for 10 minutes before inverting onto a cooling rack, then allow to cool completely.
Glaze
7
Beat the icing sugar, butter and milk together until the consistency is clean and runny.
Assembly
8
Once completely cooled, stack the Bundts in order of size and secure with four skewers, one in each corner.
9
Drizzle the icing mixture over the Bundts – messy or clean, whichever you desire.
10
Decorate – we recommend flowers.