A delicious Bundt with two top flavours, rich chocolate and smooth caramel, and a surprise cream cheese filling.
[cooked-sharing]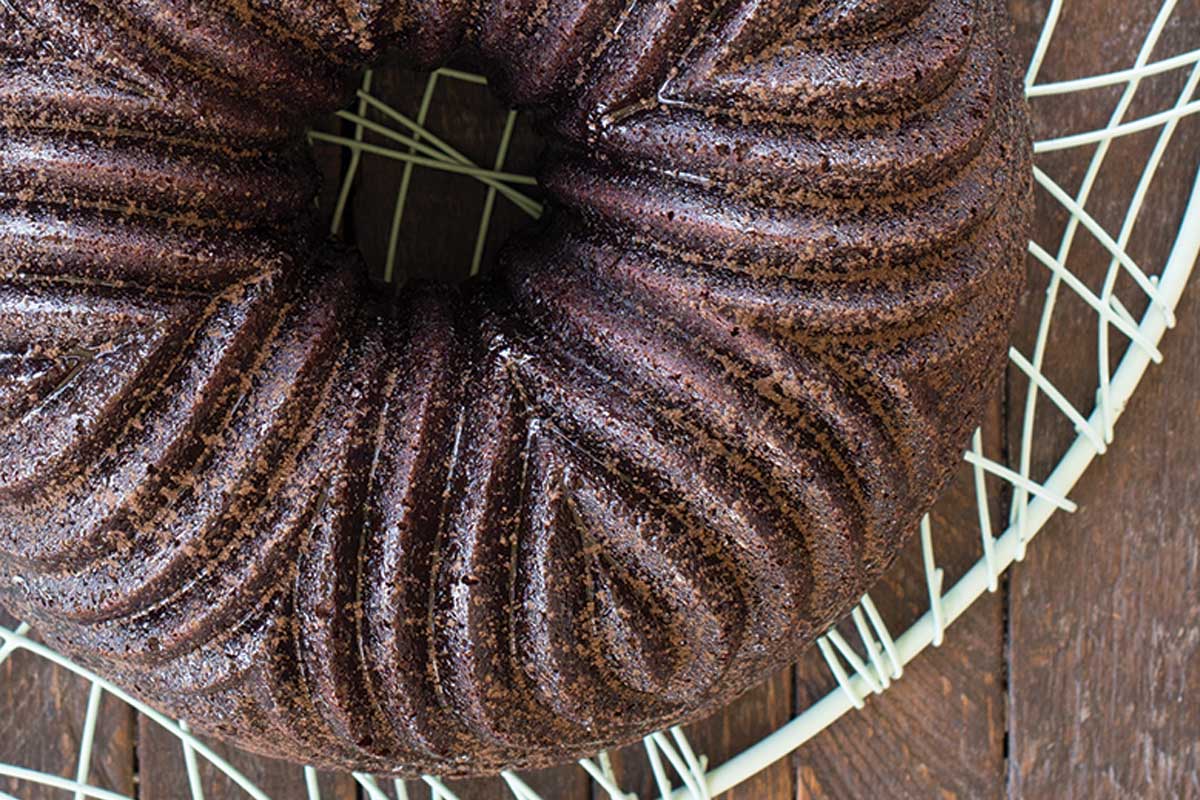 Prep Time30 mins
Cook Time1 hr
Total Time1 hr 30 mins
½
cup
dutch process unsweetened cocoa
180
g
unsalted butter, softened
110
g
bittersweet chocolate, melted
15
caramel candies, coarsely chopped
Filling
170
g
cream cheese, softened
1
large egg, room temperature
40
g
confectioners' sugar
Caramel sauce
55
g
pecans, finely chopped
Bakeware
Directions
1
Preheat oven to 180°C. Prepare your pan by using a pastry brush and melted butter, ensuring that you reach inside every crevice of the pan, then dust with flour. Alternately, use a baking spray that contains flour and brush excess with a pastry brush to evenly coat the pan.
Filling
2
Beat softened cream cheese and egg until well blended. Add powdered sugar and beat thoroughly. Add vanilla. Set aside.
The cake
3
In a medium mixing bowl, sift together flour, cocoa and baking soda. Set aside.
4
In the bowl of an electric mixer, cream butter and sugar until fluffy. Add eggs, one at a time. Beat thoroughly after each addition. Scrape the sides of the bowl. Beat in melted chocolate. Beat in vanilla and yogurt.
5
Add flour mixture to the butter mixture in three parts, alternating with buttermilk. Beat thoroughly after each addition.
6
Pour half of the batter into prepared Bundt pan. Pour cream cheese filling over the batter. Do not let the filling touch the outer sides of the Bundt pan.
7
Pour the rest of the batter into Bundt pan so the pan is three quarters of the way full. Drop coarsely chopped caramels into batter.
8
Bake for 55-60 minutes or until your Reusable Bundt Cake Thermometer indicates it is cooked (or a toothpick inserted in center of the cake comes out clean).
9
Transfer to a wire rack and let cool in the pan for 10 minutes before inverting onto a rack to cool completely.
Caramel sauce
10
Right before serving, in the top unit of a double boiler, melt caramels with heavy cream. After caramels are melted, remove from heat and stir finely chipped pecans into caramel sauce.
11
Serve immediately and top with whole or coarsely-chopped pecans.