This Bundt represents the heritage of the traditional New England cornbread of the northeastern United States. With a savoury, creamy cheese filling, try served with a bowl of your favourite chilli.
[cooked-sharing]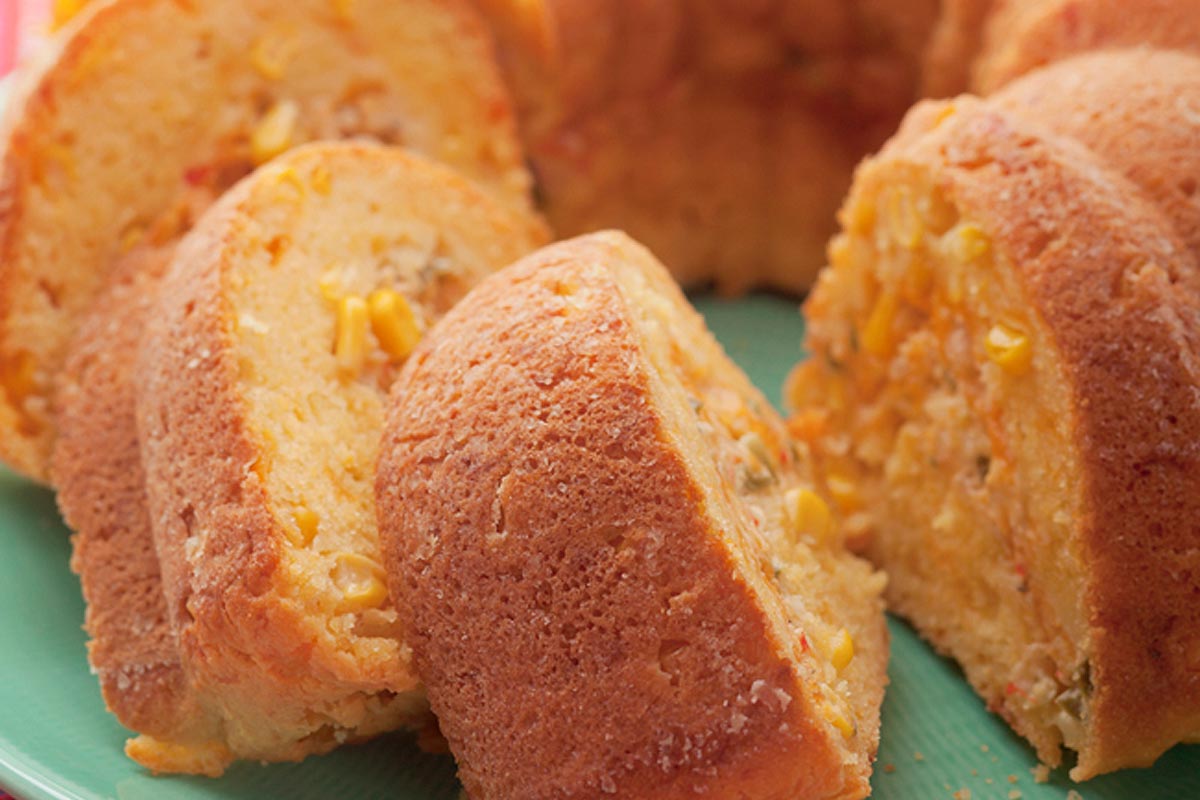 Prep Time20 mins
Cook Time50 mins
Total Time1 hr 10 mins
Filling
60
g
onion, finely-chopped
1
jalapeno, cored and seeded
2
tbsp
red and green capsicum, finely chopped
3
tbsp
unsalted butter, softened
115
g
cheddar cheese, shredded
Cake
480
ml
buttermilk, shaken
6
tbsp
extra virgin olive oil
2
cups
fresh corn kernels
115
g
cheddar or manchego cheese, shredded
Bakeware
Directions
Filling
1
Prepare your pan by using a pastry brush and melted butter, ensuring that you reach inside every crevice of the pan, then dust with flour. Alternately, use a baking spray that contains flour and brush excess with a pastry brush to evenly coat the pan.
2
Saute the onion, jalapeno pepper, capsicum, and garlic in 1 tablespoon of the butter. Cook until the onion is soft, then turn off heat and allow to cool.
3
In a medium bowl, cream together the Boursin cheese, remaining 2 tablespoons butter, shredded cheese, and 1 egg until smooth.
4
Add the cooked onions and peppers. Mix well and season to taste with salt and pepper. Set aside.
Batter
6
Mix together the flour, cornmeal, baking powder, baking soda, and salt in a large bowl.
7
Add the buttermilk, oil or butter, and 2 eggs and mix well. Mix in the corn, and cheese, and combine until fully incorporated.
8
Pour half of batter into the Bundt pan. Drop the cheese mixture by the spoonful evenly in a circle around the pan, then top with the remaining batter.
9
Bake for 50-55 minutes or until your Reusable Bundt Cake Thermometer, inserted just 2-3 cm into the cake component, indicates it is cooked (or a toothpick inserted in center of the cake comes out clean). Note that this savoury dish has a melted cheese center that is meant to be gooey.
10
Transfer to a wire rack and let cool in the pan for just 10 minutes before inverting onto serving plate and enjoy warm.
11
If reheating is necessary, cover with aluminium foil and place in a 150°C oven until warmed through.